- Locations -
Place to visit
Monkey Beach
Also called SAM HAD BEACH, Monkey Beach has soft, white sand and is one of the best beaches in the Phi Phi Islands.It takes only 10 Minutes by long tail boat from Phi Phi Don. You can explore the world-famous beach, filled with a colony of Macaque monkeys in their natural habitat.They are everywhere and not afraid to approach humans. Watch them play and run around while being able to get a photo with them.Soaked in crystal clear water, enjoy the atmosphere and the natural environment.
---
Viking Caves
Located North of Phi Phi Ley. Local Thai people know this cave as ThamPhayaNak. Viking cave is one of the most interesting and unique attractions of the Phi Phi Islands. This cave has been called Viking Cave because, on the cave wall, there is found a historic painting of Vikingships and animals which is believed to have been drawn by gypsies or pirates who used the cave for shelter in the past. Viking cave is also a home for thousands of small birds called "swifts". Nest soup is a long standing tradition in Thailand so, since Viking Caves is one of the longest-standing caves located in Koh Phi Phi Ley, you can observe one of the longest- producing cave systems still today while learning about their history and the Thai men who still live inside.
---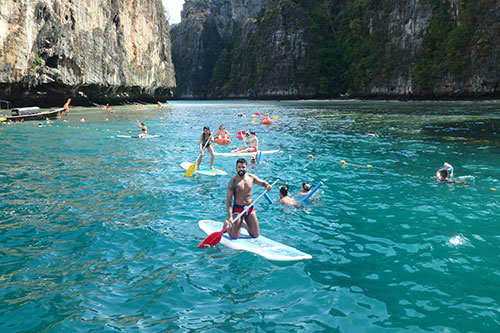 Phi Ley Lagoon
As one of Thailand's most recorded locations,this Lagoon in Koh Phi Phi Ley, will take yourbreath away as you enter into an absolutely stunning landscape.You will be surrounded by limestone cliffs on all sides. It has some of the most remarkably clear, turquoise waters and colorful reefs, making it one of Koh Phi Phi's best snorkeling locations. After you're done snorkeling, you will head to the lagoon to have relax on a shallow beach area. Feel free to jump from the front of the boat and to discover many schools of fish swimming just below the surface. Phi Ley Lagoon is one of the incredible places in Phi Phi islands. Put it in your bucket list and see how beautiful it is by your own eyes.
---
Loh Sa Mah Bay
Another beautiful bay worth a visit in Phi Phi Ley is located at the back entrance to Maya bay. With plenty of snorkeling and swimming spots in crystal-clear waters with bundles of marine life, is ashallow area commonly knownfor black tip reef sharks which makes the bay easy second favorite to snorkel and explore. Jump into the warm waters to search for black tip sharks and enjoy the sunshine. Snorkelers shouldn't miss Loh Sa Mah bay for any reason - Let's check it out!!
---
Maya Bay
Maya Bay is a part of Noppharat TharaNational Park. It is a world-famous destination for travelers since the Hollywood movie named "The Beach"was released in 2000. The beach began filming in 1999,staring Leonardo Dicrapio. The Beach is about a young American backpacker who got a map to Secret Island in southern Thailand. This map leads him to a secret paradise and a new experience that he will never get from anywhere else. The film has shown the absolutely stunning nature of Maya Bay to audiences around the world. It made Maya Bay one of the world's most popular beaches since its release. You will find around 200 meters of soft white sand along crystal clear water also surrounded by limestone and the palm trees which makes Maya Bay even more beautiful. Maya Bay is also well-known for black tip reef sharks. Sometimes, you can see them hunting for small fish around the shallow side or discover soft corals and exotic fish while you're snorkeling.
---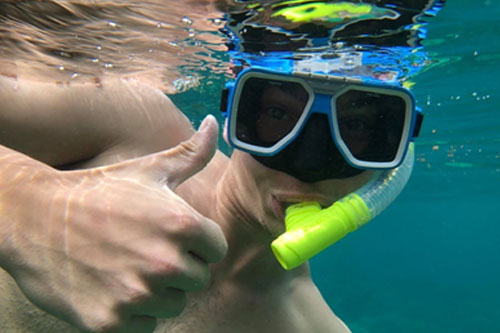 Long Beach
Phi Phi Islands is known for its beaches and true beauty; Long beach is no exception. Long beach is one of many beautiful beaches in the Phi Phi Islands. It takes only 10 minutes by long tail boat from Ton Sai pier. There are many activities that you can do to enjoy your day, whether kayaking to the shark point and snorkeling there or sunbathing at the beach and reading your favorite book. Don't miss out on the shark point!! Shark Point is only 200 meters from the beach. It is easy to see the black tip reef shark around there! Long Beach is quiet and stunning and you can expect to visit the beach without feeling like you're with too many other tourists. It stretches for 100 meters with soft, white sand. It makes for a beautiful way to spend an afternoon.
---
Loh Moo Dee Bay
This beach is the best place to escape from the reality… After about 20 minutes by longtail, you will discover the hidden gem of Phi Phi Don. Loh Moo Dee bay is located on the east coast of Phi Phi Don which is far away from the crowd. The bay is facing Koh Pu and Koh Jum.Loh Moo Dee bay is one of the mostquiet and peaceful places on Phi Phi Don. With a quaint sandbar and sun chairs lining the beach, it brings a very blissful feeling while soaking up the sun and taking a refreshing dip in emerald water.You can sit on the east side of the island and enjoy the breathtaking landscape;feel the peace among the nature.
---
Loh Ba Kao Bay
Also know in the name "Honeymoon Beach". Loh Ba Kao is the best place for a romantic honeymoon. It is located on northeastern coast of PhiPhi Don. Loh Ba kao Beach is considered the perfect beachfor a postcard picture. The bay is lined with coconut trees along with soft white sands, and clear water.You can make a whole day out of visiting this beach. It offers a small and cute little village which is enjoyable to explore, snorkel, hike, and kayak. Have a great lunch and refreshing drink to lead you into the afternoon or indulge yourself in a romantic atmosphere as the sun goes down.
---
Bamboo Island
Koh Phi Phi's most northern Island, Bamboo Island offers a large beach with the most incredible views! Unlike the other islands Bamboo is the only one without high rocky peaks, only a large beach with white sands emerging from the turquoise waters to provide you with the perfect day. Sunsets are the most magical here. Watching the sun sink into the water as the day's end approaches makes for the most perfect pictures.
---
Loh Lana Bay
Beautifully located on the north west of the island, Loh Lana Bay provides a beautiful Bay filled with corals and marine life.Loh Lana Bay has been for a very long time pretty difficult to reach by anything other than long-tail boat.The beach is long and quiet, so you feel like you're the only one there. Only a 5 minute's walk along the quiet road will lead you into the little village in Loh Ba Kao Bay.
---
Nui Bay
Known as the secret beach in Koh Phi Phi. Although the beach is small, it holds some beautiful treasures. From a hidden little cavein the waters you can go in to explore, to a stunning reef underwater, to the softest sand between your toes.One can also find a few limestones karts including one of Phi Phi's landmarks, Camel Rock.One of the top must-see places in Koh Phi Phi.
---
Wang Long Bay
Hidden in the rock formations of the South-west side of the island, thisbay is small with a little hidden beach. Wang Long Bay captures the magic of Phi Phi Don Island. In the center of the lagoon, the water drops down to 13 meters and makes for the perfect area to jump from the front of your boat to take a snorkel so you can find all the fish underwater.
---
BidaNok & BidaNai
Koh BidaNok and Koh BidaNai are the two southernmost islets of the Phi Phiisland group.The islands are just two limestone rocks jutting from the turquoise-blue waters of the Andaman Sea. Black tip reef sharks, turtles, and large schools of snappers and sea bream are very common here.
---
Yong Kasem (Monkey beach)
Yong Kasem is a small, deserted, tranquil bay located just outside LohDalum Bay to the west. With its beautifully blue clear waters, it is also known as Monkey Beach because it has a large habitation of moneys.